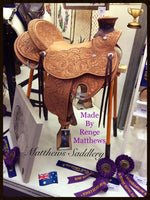 Welcome!
You've reached the home of Saddle Maker RENEE MATTHEWS. Renee is the owner of Matthews Saddlery and her workshop is located at Luddenham in NSW Australia. Renee makes custom Fender and Western Saddles. Here you will be able to view some photos of her work. For more photos please visit 'Matthews Saddlery' on Facebook.
The saddle above or to your left, depending on how you are viewing this site, is a fully carved Wade handmade by Renee Matthews. This saddle won 1st Prize at The Sydney Royal Show. Renee has won this competition five times. Renee is also a four time Standard Of Excellence recipient for her work and has won the Royal Agricultural Society of NSW Award for Best Equine Related Exhibit four times.
 Renee Matthews has a reputation for making saddles to an extremely high standard and finish that fit horses very well and are comfortable for the rider, she prides herself on her work and uses the highest quality materials. Renee makes saddles for all levels of horse riders of all ages and has made saddles for people and their horses all over Australia. Renee is dedicated to building quality, functional, stylish and durable saddles that enhance the experience and performance of both horse and rider. Renee has over 76,000 followers of her work online and can be found on Facebook, Snapchat, Instagram, Youtube and Tiktok
If you have some questions, would like to place an order or would like more information on the process of having a saddle made by Renee you can contact her directly via phone or email by clicking the "contact" tab at the top of this page
A MESSAGE FROM RENEE MATTHEWS 
"Welcome to my website! I hope you enjoy browsing and seeing a few of the saddles i have made. Please feel free to contact me directly if you have any questions. I'm happy to help you no matter what stage you and your horse are at, no question you have will sound silly to me, you don't need to know all the correct terminology so don't worry if you're unsure and please don't feel nervous to contact me even if it's just to ask a question i would love to hear from you"
Handmade By Renee Matthews